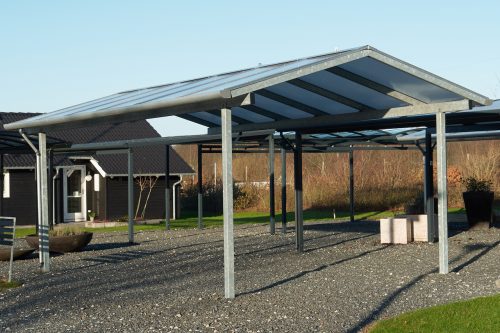 Turn to the experienced steel building contractors near Youngstown, OH, at Jeemco for your new carport or garage. Steel offers many benefits other materials do not.
Adding a carport to your property would make it easier to manage those mornings after a heavy night of snowfall. Instead of piling up on your vehicle, the snow would settle on the roof, which makes it more convenient for you to get to work on time. With our decades of experience in contracting, we recommend steel for a number of reasons. Our steel buildings near Youngstown, OH, offer the following benefits:
Cost Savings
Constructing your new carport out of steel means a lesser overall cost than building an entire garage. Plus, steel is a highly cost-effective building material.

Strength
Steel is strong and durable, yet light in weight. This makes construction easier.

Low Maintenance
This metal stands the test of time and the elements even after years of faithful service. It does not suffer from rot or insect infestations as does wood or flaking or cracking like brick.

Customizable
Your contractor can build your carport according to your specifications for height, width, and style.

No Concrete Foundation Necessary
With steel, posts are used to support the structure, so you save on the money and time it would take to have a concrete foundation poured.

With the help of the professionals at Jeemco, you can benefit greatly from the cost savings, strength, and customization of our steel buildings near Youngstown, OH. Steel is an ideal material to build your new carport.